The Arctic Gold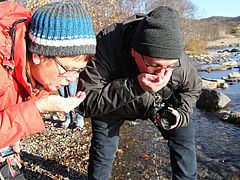 KS11 The Arctic Gold
Experience how the local people prepared to survive the long, harsh Arctic winter?
This excursion will provide you with an insight into the autumn season in the Arctic; how people have harvested, stored, hunted and fished down through the ages.
You go by bus to the camp, which is a 15-minute drive from Kirkenes. Learn how to make a fire, how to fish, make your own tea and how to throw a lasso. Afterwards, we will meet up in our Sami tent, where you will have a taste of the Arctic, including cloudberries with cream, dried reindeer meat, rhubarb and tea.
Price: NOK 1.090 p.p. / NOK 500 Children under 12 year
Start: 15:00 / Duration: 3,5 hours
Period: 20 August – 20. September
Minimum: 2 persons
---
Barents-Safari Kirkenes